Click for more information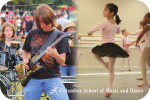 about registration events
New to the School of
Music & Dance?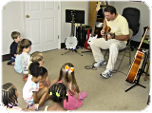 Click here to watch a short video and learn more about our programs.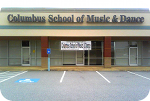 7600 Schomburg Rd., L
Columbus, GA 31909
(706) 561-3342
Click
here
to request more information.

Dance Birthday Parties

(Ages 3 years and up)


"Let us clean up the mess!"




Includes:
Private Studio
One hour of dance activities and games, half hour for cake
Dance Activity Coordinator
You provide:
Birthday Cake of Choice
Birthday supplies: cups, plates, napkins, utensils, and tablecloth
Price:
$150 for up to 8 children
$10 for each additional child
Rules & FAQ:
Q: How many guests can I invite?
A: Our studio can accomodate up to 20 children.
Q: Can I bring my own birthday cake, food, and drinks?
A: You are welcome to bring your own birthday cake, food, and juice boxes. Please no red-colored drinks such as Kool-Aid, etc. Please no ice cream cakes or ice cream, because we do not have a refrigerator.
Q: Who serves the food?
A: We ask that you serve your own food. However, your party host will be glad to assist you if you need help. Please make sure that you bring a cake knife, matches, candles, utensils, plates, cups, and napkins.
Q: What will the School of Dance provide?
A: We will provide group dance instruction and activities, party tables, set-up, and clean-up.

Q: How about decorations?
A: Table decorations only. Please no silly string, confetti, or streamers.
Q: When is the deadline for reservations?
A: Party reservations must be made no later than two weeks prior to the party date.
Q: What about payment?
A: A 50% deposit is required to place your reservation. The remaining balance is due on the day of the birthday party.
Q: Refunds?
A: Deposits are refundable up to 30 days prior to your party.