Click for more information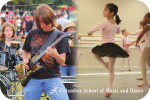 about registration events
New to the School of
Music & Dance?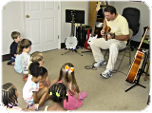 Click here to watch a short video and learn more about our programs.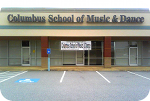 7600 Schomburg Rd., L
Columbus, GA 31909
(706) 561-3342
What Makes Us Your Best Choice for Music?
Focus On Teaching
All we do is teach. This leaves us free to specialize in one thing - providing the highest quality of music instruction.
Highly Trained & Experienced Teachers
Our instructors are highly qualified and many have extensive performance experience. Most importantly, our instructors strive to relate their teaching to each individual student's learning style.
All Ages - Beginners to Advanced
Our current students range from 3 years old to many students in their 60's and 70's. We take care to teach what you want to learn so music is rewarding for students of all ages and levels.
Private Lessons
Private lessons ensure that the student has the undivided attention of the teacher and can progress at a level suited to them individually.
Regular Concerts and Recitals
Recitals and concerts are held at least twice a year. These provide students with performance experience and build confidence. Participation in music festivals, competitions and workshops is also available.
Preschool Music Program
From the age of 3, children are exposed to the basics of music in a fun supportive group environment. This program builds a solid foundation for later success in private lessons.
All-District/All-State Band & Orchestra
Our students have been very successful in reaching their goals in making All-District and All-State levels. All instructors are experienced in the audition process. Many first chair players in these ensembles have received their training at the Columbus School of Music.
Music Class Descriptions
The CSMD guitar program is one of the largest and most active programs in the southeast. Our teachers have taken a close look at the way guitar has been traditionally taught and realize that the majority of aspiring guitarist do not wish to learn the "out-dated" materials that many teachers and books use as an instructional method. "Mary had a little lamb", "Three Blind Mice", and other traditional songs are not what most people wish to learn and are not the type of music that spurs one to play guitar in the first place. Music by Aerosmith, Keith Urban, Chet Atkins, Chris Parkening, Doyle Dykes, Brad Paisley and countless other musical groups and genres are the inspiration that drives many of today's students to choose guitar over any other instrument.


Our guitar program starts with the premise that the student wants to learn a particular song or type of music. Our instructors formulate a curriculum to meet the individual needs and desires of the student. Within the first couple of sessions, students will be able to play along with their favorite music in chord structure. Students are encouraged to bring their favorite recorded music to the classes, even at the beginning, and instructors use the student's chosen music to begin guitar studies.


Our guitar instructors are capable of teaching students ages 5 yrs - adult, beginner to advanced, and any genre. Each instructor is an active performing guitarist and has substantial teaching experience. These reasons make CSMD the best place for guitar studies!


Click here to register for guitar lessons today.


CSMD insures that students learn all musical essentials in their studies. Students learn all aspects of Music Theory, Technique, and Repertoire pertaining to drums/percussion. The difference at CSMD is that we recognize that the percussion repertoire is growing everyday with every new song and group seen and heard. We believe that in order to progress as a musician and learn effectively the student must enjoy the instrument and love the music they are playing. This love of learning is different for each individual depending on their taste in music and goals as a musician. Many students, especially adults and older students have an input as to music and styles they wish to learn.*


Our drum instructors are capable of teaching students ages 4 yrs - adult, beginner to advanced, and any genre. Each instructor is an active performing percussionist and has substantial teaching experience. These reasons make CSMD the best place for drums/percussion studies!


Click here to register for drum lessons today.


It can be said that piano training is the cornerstone of all musical studies. Most professional musicians are trained in basic piano skills, and highly recommend piano study to their respective students. A thorough knowledge of the piano can enhance any style of musical study by providing a hands on understanding of music theory, as well as excellent aural training. Piano training is a requirement for the serious student seeking a professional career in music.

The piano department at CSMD offer a wide variety of curriculums based on age as well as areas of interest. CSMD accepts preschool students as young as 4 years old. Our piano instructors use an innovative program which utilizes creative characters and fun songs that captivate the imagination while at the same time teaching music theory, correct fingering, musicality, and performance. Each age level, 4 - 5, 6 - 7, 8 - 11, 12 - 14, and 14 - adult study a challenging curriculum with repertoire suitable for their age and playing level as determined by the instructor. Classical to classics, contemporary to pop, all forms of music are encouraged and are available for study.


Click here to register for piano lessons today.


For hundreds of years, string instruments have been the centerpiece of performed music. Every genre of music contains repertoire that includes string instruments. CSMD takes great care in helping our students understand the important musical heritage of this group of instruments, while creating a fun and exciting learning environment.

The CSMD string department accepts students ages 3 1/2 years - adult. Our string curriculum is based on the age and level of each individual student. Instruments offered in our program include violin, viola, and cello. Students in the string program will learn essential classical repertoire, as well as the option to learn folk music and bluegrass. Young students learn to play in a fun and entertaining way while also learning the basics, such as proper hand position, posture, bow hold, etc. CSMD promotes a high level of musicianship and performance; many students train toward performance competitions.


Our string instructors are capable of teaching students ages 4 yrs - adult, beginner to advanced, and any genre. Our violin faculty are active performing artists and have substantial teaching experience. CSMD string program is at the forefront of string education in the Southeast. Whether your goal is to play for your own enjoyment or your goal is to become a professional performing artist, the School of Music welcomes you!


Click here to register for other string lessons today.


The popularity of singing is growing on a daily basis. "American Idol", gospel choirs, R & B groups, and other forms of vocal music are becoming more and more popular. CSMD recognizes this resurgence in vocal arts and uses a modern approach to instruction. We know as instructors that anyone can learn to sing, therefore no individual should wonder if they can. The School of Music welcomes all students who wish to improve their voice.

Instructors usually recommend that students begin around age 8 through adult; all levels from beginning through advanced are available. Repertoire is selected by instructors and supplemented with choices by the students. Student's at CSMD do have many choices as to the type of music they wish to study. All students are encouraged to participate in ensemble performances, as well as numerous solo recitals which occur throughout each semester. All forms of training are available from classical to opera to "pop"; CSMD instructors are versatile in all genres of music and performance.


Our voice instructors are capable of teaching students ages 8 yrs - adult, beginner to advanced, and any genre. Each instructor is an active performing vocalist and has substantial teaching experience. These reasons make CSMD the best place for vocal studies!


Click here to register for voice lessons today.


Columbus School of Music was founded with the winds department. Our oldest department has proven to be the strongest over the years with students continuing into musical careers and performing accolades. The winds program consists of flute, trumpet, clarinet, and saxophone studies. Suzuki Flute Method is available in this department starting students as young as 3 1/2 years old.

Students at CSMD study music in many genres: classical, jazz, blues, contemporary, etc. Students learn to perform at the highest levels including solo performing and ensembles. CSMD students have won honors such as principle chairs of district ensembles and orchestras as well as participating at All-State events.


"Talent is not inherited or inborn, but learned and trained"
- Shinichi Suzuki


Founded by the legendary Japanese teacher Shinichi Suzuki, the Suzuki method of teaching is one that seeks to realize the musical and personal potential of each child through the medium of flute. At the heart of the Suzuki philosophy is the idea that children learn music in exactly the same manner in which they absorb language - through constant immersion and repetition and a loving home environment. Just as all children can learn to speak their native tongue, so too can all children become proficient in music by listening to recordings, daily practicing, regular concert attendance, encouragement and love are required of students and parents. In the Suzuki Method children thrive in an environment of total support. Suzuki students develop confidence and self-esteem, determination to try difficult things, self-discipline, and concentration.


Our wind instructors are capable of teaching beginner to advanced and any genre. Our wind faculty are active performing artists and have substantial teaching experience. Our winds program is a pioneer of early childhood music education in the area and continues to be a driving force in band programs throughout the state.


Click here to register for wind lessons today.


* CSMD does not promote nor encourage inappropriate music or lyrics in curriculum. Material may be turned down as repertoire by the instructor and/or school if deemed inappropriate. Parents of students under 18 years of age may be consulted about selections for students when necessary.